Information
---
Price Free

Language English

---

Commitment TDA: April 14th, 2022 to April 14th, 2023
About This Course
Infertility is a vital part of gynecological practice and clinicians must be very well equipped with knowledge in managing these patients as it has become a part of their everyday practice. Recurrent pregnancy losses and poor ovarian response has been discussed extensively in literature but still no definite way to predict the clinical outcomes of the treatment options. The 2 important modules in this learning program are fabricated in a very interesting and descriptive way which includes data and literature with latest evidence and clinical experience of renowned key opinion leaders in the field. The self-assessment at the end shall provide a self-paced learning along with clarification of doubts and thereby the doctors will achieve a sound understanding of the subject discussed in the module.
Objective of the Course

Understanding the established and controversial aetiologies in adolescent PCOS and recurrent pregnancy loss
Sound understanding of the recommended therapeutic strategies and the empiric treatments used nowadays
Evaluating applicable solutions for patients with poor ovarian response
Discussing the ideal protocol in managing these patients and impart in-depth elucidation of different aspects of an IVF treatment
Obesity Trends and Consequences
Bariatric Surgery : History, Consequences and Types
Introduction to Bariatric Nutrition: Guidelines, Pre, Peri and Post
Nutrigenomics : Tool in Obesity Management

Need of the Course

To equip the obstetricians with evidence-based guidelines and programs in management of patients with poor ovarian reserve and recurrent pregnancy loss
Learn management of the diseases through case-based scenarios
Gain confidence in handling these patients in clinical practice
Meet the Faculty
DR. JATIN SHAH
MD, DGO Gold Medalist (Mumbai University), Director, Mumbai Fertility Clinics & IVF Centre
Dr. Jatin Shah has 30 years of ART practice and pioneered the setup of IVF centres. He has delivered innumerable international and national presentations. Dr. Jatin has won multiple awards by Dr. Adi Dasture, Dr. C.N. Purandare, Dr. Indumati Jhaveri, and Top Docs Mumbai (India Today). He is the founder member of ASPIRE and has also conducted successful IVF cycles for leading Bollywood and other celebrities from all walks of life. He has also written numerous text chapters and publications in Esteemed Journals.
DR. SHANTHA KUMARI
M.D., D.N.B.FICOG FRCPI (Ireland) FRCOG (UK)
Dr. Shantha Kumari is an OBGYN Professor, President of FOGSI 2021-2022, Treasurer of FIGO 2021-2023, Chairperson of ICOG 2018, ICOG Secretary 2015-2017, a member of FIGO working group on violence against women, Vice-President of FOGSI 2013, and ICOG Governing Council Member. She is a consultant and Yashoda Hospitals, Hyderabad and the IAGE Managing Committee Member. Dr. Shantha is also the National Corresponsing Editor for JOGI, the Organizing Secretary of AICOG 2011, and the Chairperson of MNNRRC 2008.
DR. NANDITA PALSHETKAR
M.D., F.C.P.S., F.I.C.O.G.
Dr. Nandita Palshetkar is an Eminent IVF specialist with more than 30 years experience. She is the Medical Director - Bloom IVF and heads 7 centers all over India, MD-ObGyn at GMC/JJ Hospital, Mumbai. She is also a PG teacher at Fellowship in Reproductive Medicine of National Board, Delhi, and at Lilavati Hospital, Mumbai. She has trained more than 5000 gynaecologists in infertility over the last 15 years. She is also specialized in ART from world-famous IVF units in Belgium, Italy, Melbourne and Copenhagen. Dr. Nandita has delivered 65 orations and more than 900 talks, authored more than 100 chapters and papers and edited 23 books. She has held important leadership roles like President, FOGSI 2019; President AMOGS, 2020-22; President, MOGS 2016-17; President, IAGE, 2017-18; President Elect, ISAR. She has received CME Dronacharya Award for exemplary contribution towards Gynaecology and IVF 2021, MOGS- Dr. B.N. Purandare Outstanding Service Award for the year 2020-2021, CSR Award 2019, CME Excellence Award 2019, Inspiring Gynaecologists of India 2018, Doctor's Day IMA Empowered Women Award, Femina-Women Super Achiever Award 2018, Bharat Gaurav Award 2014 -House of Commons, London and Bloom IVF - "Frost and Sullivan" Best IVF Service Provider Company of the Year, India 2013.
Certified by
The Federation of Obstetric and Gynecological Societies of India (FOGSI) and one credit point from Gujarat Medical Council
CME Disclosure
The information in this educational activity is provided for general medical education purposes only and is not meant to substitute for the independent medical judgment of a physician relative to diagnostic and treatment options of a specific patient's medical condition. The viewpoints expressed in this CME activity are those of the authors/faculty. They do not represent an endorsement by 'Us'. In no event will 'We' be liable for any decision made or action taken in reliance upon the information provided through this CME activity.
The following faculty have indicated they have no relationship which, in the context of their presentations, could be perceived as a potential conflict of interest:

Dr. Jatin Shah, Dr. Shantha Kumari, Dr. Nandita Palshetkar

We acknowledge the educational grant received from Aristo Pharmaceutical Private Limited for the creation of this Internet Enduring activity.
Certification Benefit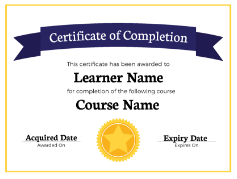 Official and Verified:
Receive an instructor-signed certificate with the institution's logo to verify your achievement and increase your job prospects.

Easily Shareable:
Add the certificate to your CV or resume, or post it directly on LinkedIn

Boost your Profile:
Stand out from the rest by adding valuable certificates and make your profile look much more lucrative.
Proven Motivator:
Give yourself an additional incentive to complete the course
Course FAQs
Gynaecologists.
The course is organized into 2 modules and includes additional resources specific to each one. Registration for the course is always open and participants may begin the course at any time.
As soon as you enroll in a course, you'll have access to all videos, quizzes and assignments (if applicable). Peer review assignments become available once your session has officially begun.
Yes, some background knowledge pertaining the subject will be necessary. This course is directed towards MBBS/MD doctors who have done their post-graduation in Gynaecology.
Yes, relevant work experience is beneficial as the courses on docmode.org help practising and aspiring healthcare professionals.