Information
---
Price

$150

Language

English

---

Commitment:

4 Weeks, 2 Hours per week
About This Course
Objective of the course: To be able to Diagnose and Treat Dry Eye Disease.
Dry eye Disease(DED) is a chronic condition of the corneal surface marked by persistent symptoms of irritation or burning that can cause inflammatory damage to the cornea and conjunctiva if untreated. Common risk factors for this syndrome include advancing age, female sex, low humidity environments, systemic medications, and autoimmune disorders.

DED can substantially affect vision and quality of life, as symptoms often interfere with daily activities, such as driving, reading, writing, or working on video display monitors.
Read More
Meet the Instructor
DR. NAMRATA SHARMA
All India Institute of Medical Sciences, New Delhi.
Dr. Namrata Sharma is a Senior Cataract, Cornea & Refractive Surgeon at Dr. Rajendra Prasad Centre for Ophthalmic Sciences, AIIMS, New Delhi. She is a fellow of Moorfields Eye Hospital in London, UK. Dr. Namrata holds the position of the Regional Secretary, Asia-Pacific Academy of Ophthalmology and Honorary General Secretary of All India Ophthalmological Society (AIOS). Her clinical work includes phacoemulsification surgery and foldable intraocular lens implantation and excimer laser refractive procedures. Her keen areas of interest are corneal transplantation including lamellar surgeries , anterior segment reconstructive procedures, ocular surface surgeries and keratoprosthesis. Her areas of research include all aspects of corneal diseases cataract and refractive surgeries as well as laboratory based stem cell based therapies.
DR. ROHIT SHETTY
Narayana Nethralaya Eye Institute, Bangalore.
Dr. Rohit Shetty is the Vice Chairman of Narayana Nethralaya Eye Institute. He is a Professor at Sri Devaraj Urs Medical College, India and an Adjunct Associate Professor at MS Ramaiah Medical College, Bangalore. Dr. Rohit is an Affiliate Associate Professor and PhD guide at the Maastricht University in The Netherlands. Dr. Rohit defended his PhD from Maastricht University, Netherlands on Understanding the Clinical, Immunological and Genetic Molecular Mechanism of Keratoconus. He has a special interest in the management of keratoconus, tear film abnormalities and biomarkers. He has introduced cutting edge technology at Narayana Nethralaya and spearheads treatment for challenging eye disorders. Dr. Rohit won the prestigious Col. Rangachari award for the overall best paper of the conference for his work on "Is Inflammation Driving Keratoconus? – A Holistic Study Of Molecular Pathways".
DR. KAVITA RAO
Aditya Jyot Eye Hospital, Mumbai.
Dr. Kavita Rao is the Director, Cornea, Cataract and Refractive Centre at the Aditya Jyot Eye Hospital. She has done a long-term fellowship in Cornea at the Cullen Eye Institute, Baylor College of Medicine, U.S.A where she is trained exclusively in the latest advances in Cornea, LASIK and Refractive Surgery. Dr. Kavita is a skilled surgeon proficient in Microphaco Phaco Surgery, Femto or Bladeless Cataract Surgery without stitches in routine and complex cataract surgery with premium intraocular lenses. She specializes in advanced Keratoconus management with corneal crosslinking, INTACS, Topo guided PRK having trained internationally for the procedure. She is an expert in limbal stem cell transplants in patients with chemical injuries.
What you will learn
At the completion of this course the participant will be able to:
Learn about the importance of diagnoses and treatment of Dry Eye disease.
Learn about the different types of Dry Eye disease.
Understand the pathogenesis of Dry Eye disease.
Learn clinical evaluation including history and slit lamp examination to look for signs of Dry Eyes.
Learn about clinical tests to diagnose Dry Eyes.
Describe and perform various imaging techniques in Dry Eyes.
Learn to triage patients into different types of Dry Eyes.
Learn in detail various Management options for Dry Eyes
View Syllabus
CME Disclosure
The information in this educational activity is provided for general medical education purposes only and is not meant to substitute for the independent medical judgment of a physician relative to diagnostic and treatment options of a specific patient's medical condition. The viewpoints expressed in this CME activity are those of the authors/faculty. They do not represent an endorsement by DocMode. In no event will DocMode be liable for any decision made or action taken in reliance upon the information provided through this CME activity.
The following faculty have indicated they have no relationship which, in the context of their presentations, could be perceived as a potential conflict of interest:
Dr. Namrata Sharma
Dr. Rohit Shetty
Dr. Kavita Rao
Dr. Sayan Basu
Dr. Geetha Iyer
DocMode and ICO acknowledge that no educational grants were received for the creation of this Internet Enduring activity.
Certification Benefit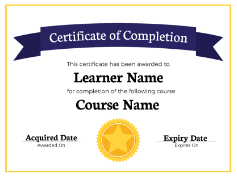 Official and Verified:
Receive an instructor-signed certificate with the institution's logo to verify your achievement and increase your job prospects.

Easily Shareable:
Add the certificate to your CV or resume, or post it directly on LinkedIn

Boost your Profile:
Stand out from the rest by adding valuable certificates and make your profile look much more lucrative.
Proven Motivator:
Give yourself an additional incentive to complete the course
Course FAQs
Residents and Practicing Ophthalmologists.
The course is organized into 4 modules and includes additional on resources specific to each one. Registration for the course is always open and participants may begin the course at any time.
As soon as you enroll in a course, you'll have access to all videos, quizzes, and assignments (if applicable). Peer review assignments become available once your session has officially begun.
Yes, some background knowledge pertaining the subject will be necessary. This course is directed towards MBBS/MD doctors who have done their post-graduation in Ophthalmology .
If you pay for this course, you will have access to all of the features and content you need to earn a Course Certificate. If you complete the course successfully, your electronic Certificate will be added on a link to your Dashboard page below the completed course - from there, you can print your Certificate or add it to your LinkedIn profile.
Yes, relevant work experience is beneficial as the courses on docmode.org help practicing and aspiring healthcare professionals.