Information
---
Price : Free

---

Language : English

---

Type : Course

---

Live On : 5 February, 2021 9:00 AM

---

Commitment : 12 weeks, 1 hour / week
About This Course
This course is about the current concepts about hypertensive disorders in pregnancy (Gestosis). A specially designed course for clinicians who are willing to update and upscale themselves and their knowledge related to an important Gynecologic complexity like Gestosis and to handle any criticalities related to it.
The learners will learn A to Z about HDP. Right from how nomenclature changed, current concepts in pathophysiology to newer things in the management.
The objective of the course is to reduce maternal mortality out of HDP. All the obstetricians in India should speak uniform concepts in the management of HDP. Every single obstetrician will get updated knowledge about prediction, prevention, diagnosis, and management of HDP. As the course also elicits about complications and their management it is the complete, lucid information by the stalwarts in the field.
Meet the Instructor
DR. SANJAY GUPTE
MD, DGO, FICOG, LLB, FRCOG
Dr. Gupte is in clinical practice for past 40 years and is identified as a senior icon and the penultimate idol in the medical fraternity. he is the Director of Gupte Hospital and Centre for Research in Reproduction and GreenArray Genomic Research & Solutions. He was a professor in BJ Medical College and Sassoon General Hospital, Pune. Dr. Gupte is the Ethics committee Chair of FIGO, Secretary General World Gestosis Organization, Chairman technical research committee of the Indian Council of Medical Research, National Coordinator, National Eclampsia Registry and National Consultant in Medicolegal and ethical Issues in Ob & gyn. He is the Past President of FOGSI (2010) and DIPSI (2013).He is also the Ex-Chairman of Ethics Committee, Maharashtra Medical Council, Ex-Member of Central Supervisory Board of PCPNDT, Ex-Member of Ethics Committee, Medical Council India and Ex-Hon. Prof. & Post Graduate teacher Obstetrics and Gynecology. Dr. Gupte is the recepeint of FRCOG (Honoris causa) by the Royal College (London) in 2010.

DR. GORAKH MANDRUPKAR
MBBS, DGO, FCPS, FICOG, FICMCH, PGDCR, PGDMLS
Dr. Mandrupkar is a Consultantof Reproductive Medicine and a Gold Medalist of Pune University. He is the Secretary of World Gestosis Organization,India Chapter, Faculty at Symbiosis Institute of Health sciences, Pune, Member of Expert group, National policy of PPH, NHM, Govt. of India and Member of District advisory committee PCPNDT Sangli. Dr. Mandrupkar is an Ex-Joint secretary of FOGSI (2014) and Ex-Chairperson of Medical Disorders in Pregnancy committee, FOGSI. He has delivered more than 350 lectures and has 14 Publications and co-editoed 4 books.
DR. SEETHA RAMAMURTHY PAL
MBBS, DGO, MD, FICOG, FRCOG, RCOG/RCR Diploma in Advanced Obstetric USG
Dr. Pal is a Consultant of Fetal Medicine & Obstetrics at Apollo Gleneagles Hospital, Kolkata. She is the Chairperson Fetal Medicine & Imaging Committee, BOGS, East Zone coordinator, Imaging Science Committee, FOGSI, Member of RCOG Eastern zone Representative Committee, Hon. Treasurer of Society of Fetal Medicine, Kolkata Chapter, Clinical Secretary of ISOPARB, Kolkata Chapter and a faculty of MRCOG Part 2 and 3 Courses. She was also the Managing Committee Member of Bengal Obs & Gyn Soc (2019-20). Dr. Pal has authored 16 peer reviewed papers and book chapters.
DR. PRATIMA MITTAL
MD, FICOG, FICMCH
Dr. Mittal is the Professor & Consultant at Department of Ob-Gyn, VMMC and Safdarjung Hospital, New Delhi. She has a Honor of FRCOG from Royal College UK for exemplary work done in women healthcare. She was the Former HOD at Department of Obst & Gynae, VMMC & Safdarjung Hospital. Dr. Mittal is the Member of Technical Resource Group MOHFW, GOI for Adolescent Health, Maternal Health, Contraception, Comprehensive abortion care (CAC) & Maternal Death Review. She was the Vice- President of FOGSI (2018), President of Association of Obst. & Gynae of Delhi (AOGD), 2015-16. She has also Collaborated many WHO projects as stillbirth registry, maternal and perinatal death Surveillance, mother in NICU-MNICU, Preterm birth Cohort. She has Established one of the first fully equipped obstetric critical care unit in public sector.
DR. SUCHITRA PANDIT
MD, DNB, FRCOG (UK), FICOG, DFP, MNAMS B.Pharm
Dr. Pandit is was the Chairperson AICC RCOG (2017-20), President Organisation Gestosis (2015-18) President ISOPARB (2017-20), President, FOGSI & ICOG (2014-15), President, MOGS (2013- 2014) and Chairman Education Committee SAFOG (2017-19). She is the Chair for PRG Group , NIRRDOH - ICMR committee. She initiated FOGSI GESTOSIS Hypertensive Disorders in Pregnancy certificate course, Conceptualised FOGSI YOUTH MELA for empowering the young generation GCPR-8 guidelines in 2014. Dr. Pandit has 115 publications to her name and has Authored 5 books- Caesarean birth, Fibroids , MCQs, Pelvic Organ Prolapse, Manual for OBGYN Practitioners. She is Awarded with 30 orations & several prizes. She is the Winner of FIGO Woman's award, MMC Award, 2016, MOGS Dr. Desai award for excellence, FOGSI Corion, best committee & best publication award, FOGSI - Duru Shah & MOGS Ganatra community service award. She is associated with workshops like Safety First, Caesarean skills, Communication skills PCPNDT, Postpartum care, Women First & preventive oncology and FOGSI Ankur Initiative for sensitizing pregnant women & families for Rx of anemia ,early registration & hospital delivery. She She also participated in FOGSI- Bharat Jagruti Yatra.
What you will learn
At the completion of this course the participant will be able to:
diagnose early and late gestosis
prescribe treatment plan to patients with gestosis, pre-eclampsia
predict and prevent complications associated with gestosis
clinically apply the principles with the help of clinical case demonstrations
View Syllabus
Certified by
The Federation of Obstetric and Gynecological Societies of India (FOGSI)
CME Disclosure
The information in this educational activity is provided for general medical education purposes only and is not meant to substitute for the independent medical judgment of a physician relative to diagnostic and treatment options of a specific patient's medical condition. The viewpoints expressed in this CME activity are those of the authors/faculty. They do not represent an endorsement by DocMode. In no event will DocMode be liable for any decision made or action taken in reliance upon the information provided through this CME activity.
The following faculty have indicated they have no relationship which, in the context of their presentations, could be perceived as a potential conflict of interest:
Dr. Sanjay Gupte, Dr. Gorakh Mandrupkar, Dr. Seetha Ramamurthy Pal, Dr. Pratima Mittal, Dr. Suchitra Pandit, Dr. Chinmayi Ratha, Dr. Gorakh Mandrupkar, Dr. Jayam Kannan, Dr. Charmila Ayyavoo, Dr. Girija Wagh, Dr. Alpesh Gandhi, Dr. Vidya Thobbi and Dr. Priti Kumar
We acknowledge the educational grant received from Sun Pharmaceutical Industries Limited for the creation of this Internet Enduring activity.
Certification Benefit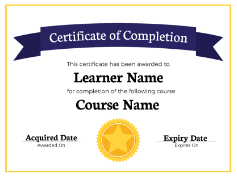 Official and Verified:
Receive an instructor-signed certificate with the institution's logo to verify your achievement and increase your job prospects.

Easily Shareable:
Add the certificate to your CV or resume, or post it directly on LinkedIn

Boost your Profile:
Stand out from the rest by adding valuable certificates and make your profile look much more lucrative.
Proven Motivator:
Give yourself an additional incentive to complete the course
Course FAQs
As soon as you enroll in a course, you'll have access to all videos, quizzes, and assignments (if applicable). Peer review assignments become available once your session has officially begun.
Yes, some background knowledge pertaining the subject will be necessary. This course is directed towards MBBS/MD doctors who have done their post-graduation in Gynaecology.
If you pay for this course, you will have access to all of the features and content you need to earn a Course Certificate. If you complete the course successfully, your electronic Certificate will be added on a link to your Dashboard page below the completed course - from there, you can print your Certificate or add it to your LinkedIn profile.
Yes, relevant work experience is beneficial as the courses on docmode.org help practicing and aspiring healthcare professionals.