Information
---
Price

$8

Language

English

---

Commitment:

2 weeks, 2 hour per week
About This Course
Objective of the course: To be able to get an insight into prescription product launches and apply the same in your professional career.
0-80% of product launches fail in the market and regulatory landscape with stiff generic competition has made it very difficult to build a powerful brand. So what are those top 20% of the companies doing to ensure their brand launch is a commercial success! The key to a successful brand launch is a strategic blueprint of pre-launch, go-to-market and patient support programs
This Course on Pharma Rx Launch by DocMode is designed to help brand managers, management trainess and PMT teams to understand each aspect product launch strategy and learn the framework to create a robust launch plan. At the end of this course participant will be able to get fundamental insight into Rx product launch and apply the same in their professional career.
Meet the Instructor
AVISHEK BASU
Brand Manager, Biosimilars, Mumbai.
Avishek is a bio-science graduate with Masters in Microbiology and currently manages super-specialty portfolio of biosimilars(Infliximab, Somatropin) for top-most pharma company in India. He has previously helped to launch and build Rheumatology division for an emerging player in the segment (Adalimumab, Rituximab). With a passion for customer insight and market research in emerging therapies, Avishek is highly enthusiastic about new product launches and disease category creation; continuously seeking opportunities to disrupt brand management strategy, and thinking beyond-the-pill to create value for the patients.
Avishek has gained initial training under one of the best mentor-CEO in the pharma industry, sharpening skills of product launch, GTM strategy, team hiring and field implementation through KOL connect.
Since his early professional days, he has followed the likes of powerful CEOs of some of the biggest corporations in the world, like Novartis, Abbott, Pfizer, Google, Toyota, Apple, Starbucks, Coca Cola, McDonald's (to name a few) and carefully observed how they have successfully built iconic brands.
He firmly believes that creativity in customer communications plays a huge role in the making of a brand, and is a strong follower of the art of consumer neuroscience.
What you will learn
At the completion of this course the participant will be able to:
understand launch archetypes: Blockbuster/Rationally Identical/Category Creators/Market Shapers
understand & apply concepts of pre launch core functions: Healthcare ecosystem mapping/ Market fit analysis/ Value proposition/ Cross-functional capability
understand & apply go-to-market strategies: Communication strategy/ Market access/ Customer Engagement/ RWE
patient journey and support programs to improve adherence & brand loyalty
View Syllabus
CME Disclosure
The information in this educational activity is provided for general medical education purposes only and is not meant to substitute for the independent medical judgment of a physician relative to diagnostic and treatment options of a specific patient's medical condition. The viewpoints expressed in this CME activity are those of the authors/faculty. They do not represent an endorsement by DocMode. In no event will DocMode be liable for any decision made or action taken in reliance upon the information provided through this CME activity.
The following faculty has indicated that they may have a relationship, which in the context of their presentations, could be perceived as a potential conflict of interest:
The following faculty have indicated they have no relationship which, in the context of their presentations, could be perceived as a potential conflict of interest:
Avishek Basu
DocMode acknowledge that no educational grants were received for the creation of this Internet Enduring activity.
Certified by
DocMode Health Technologies
Certification Benefit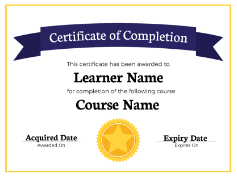 Official and Verified:
Receive an instructor-signed certificate with the institution's logo to verify your achievement and increase your job prospects.

Easily Shareable:
Add the certificate to your CV or resume, or post it directly on LinkedIn

Boost your Profile:
Stand out from the rest by adding valuable certificates and make your profile look much more lucrative.
Proven Motivator:
Give yourself an additional incentive to complete the course
Course FAQs
Brand Manager/ Product Manager (1-3 yrs of PMT exp)
Therapy area: Any
The course is organized into 4 modules and includes additional on resources specific to each one. Registration for the course is always open and participants may begin the course at any time.
As soon as you enroll in a course, you'll have access to all videos, quizzes, and assignments (if applicable). Peer review assignments become available once your session has officially begun.
Yes, some background knowledge pertaining the subject will be necessary. This course is directed towards Brand Manager/ Product Manager (1-3 yrs of PMT exp, Any therapy area).
If you pay for this course, you will have access to all of the features and content you need to earn a Course Certificate. If you complete the course successfully, your electronic Certificate will be added on a link to your Dashboard page below the completed course - from there, you can print your Certificate or add it to your LinkedIn profile.
Yes, relevant work experience is beneficial as the courses on docmode.org help practicing and aspiring healthcare professionals.