Information
---
Price :

---

Language : English

---

Type : Course

---

Live On :

---

Commitment : 3 weeks, 2 hour / week
About This Course
This Program is specially designed for medical practitioners to upskill themsleves in obstetrics and gynecology that will enable them to safely undertake cases of complex and gynecological procedures. This course focuses on insight into Current Trends into the Management of Several conditions in Obstetrics and Gynecology. This is a special program with case-based approach and lecture series with specialized topics. The program creates an opportunity to understand the cases in a better way related to these specialties.
Meet the Instructor
DR. BHASKAR PAL
MBBS, MD, DNB, MRCOG, DGO
Dr. Pal is a Consultant at Apollo Gleneagles Hospital Limited, Kolkata. He has secured a distinction in Physiology in first MBBS examination, 1985 and is a A. L. Sanyal scholar in Obstetrics & Gynaecology, 1987. He has a Certificate of Honours in Obstetrics & Gynecology, 1988. Dr. Pal is the recepient of Outstanding postgraduate student award, L.T.M.G Hospital,Bombay, 1994, Letter of commendation from the President, RCOG, for performance in MRCOG Part II examination, 1998 and Best paper at the South Thames (West) Regional Registrars' Study Day Kingston Hospital, May 1999.
DR. A TAMILSELVI
DGO, MRCOG, FRCOG (UK)
Dr. Tamilselvi is a Consultant Urogynaecologist & Pelvic Floor Surgeon at Medical Mission Hospital & Mangai Women's Health Exclusive, Chennai. She has a Clinical Fellowship in Urogynaecology from UK and have worked in the NHS(UK) with specialist registrar training(CCST) at London Deanery. Dr. Tamilselvi is the Fellow Representative of South zone AICC RCOG, Secretary of Chennai Menopause Society, Treasurer of SOVSI (Society of Vaginal Surgeons of India) TN Chapter and Joint Treasurer of ATN RCOG. She was also the Scientific Chair of AICC RCOG 2016, 30thAnnual Conference, Member Representative of All India Committee of RCOG South Zone, 2011 -2017, and Organising Secretary of AICC RCOG Annual Conference 2011, Chennai. She is the Editor of the text book on Urogynaecology - "Principles & Practice of Urogynaecology" and have several publications in peer reviewed journals & chapters in text books.
DR. BID KUMAR
DGO, MD, Dip NBE, FRCOG, PG Diploma(Clinical Education)
Dr. Bid Kumar is a consultant obstetrician and Gynaecologist since 2001 and currently works at Wrexham Maelor Hospital, North Wales, UK. He has received broad based training and provides services in both obstetrics and gynaecology. His special interests are maternal-fetal medicine and minimally invasive surgical procedures, including laparoscopic surgery for benign pathology. He is the editor/author of two books: Early Pregnancy Issues for the MRCOG and Beyond, and Fetal Medicine, part of the Advance Skills series published by Cambridge University Press. Dr. Bid is also interested in medical education, has been a RCOG tutor for 9 years and was part of the Faculty for the 'How to be a College Tutor' course run by the College. He has been a MRCOG examiner since 2009 and an active member of the Faculty for the RCOG's MRCOG Part 2 Course. He is a deputy editor of Ultrasound, the official journal of the British Medical Ultrasound Society, and is due to take over as Editor from January 2017. Dr. Bid is a member of the RCOG's Guideline Committee and the NICE Guideline Committee for intrapartum care for high-risk women. He is a member of the British Maternal Fetal Medicine Society, the British Society for Gynaecological Endoscopy and the British Medical Ultrasound Society.
What you will learn
At the completion of this course the participant will be able to:
Construct differential diagnoses of patients with common benign gynecological conditions of venous thromboembolism and recurrent vulvovaginal infection
Perform gynecological procedures using integrated knowledge of Pregnancy Care
Analyze the quality of evidence regarding controversial topics in the field of Ob/Gyn
Learn practical management of diseases through case-based presentation
Understand efficaces of progestrone in managing Preterm
View Syllabus
Module 1 - Venous Thromboembolism in Pregnancy
Module 2 - Recurrent Vulvovaginal Infections
Module 3 - Progesterone in Preterm Labour Prevention
CME Disclosure
The information in this educational activity is provided for general medical education purposes only and is not meant to substitute for the independent medical judgment of a physician relative to diagnostic and treatment options of a specific patient's medical condition. The viewpoints expressed in this CME activity are those of the authors/faculty. They do not represent an endorsement by DocMode. In no event will DocMode be liable for any decision made or action taken in reliance upon the information provided through this CME activity.
The following faculty have indicated they have no relationship which, in the context of their presentations, could be perceived as a potential conflict of interest:
Dr. Bhaskar Pal
Dr. A Tamilselvi
Dr. Bid Kumar
DocMode acknowledge that educational grants were received from Integrace Health Pvt.Ltd for the creation of this Internet Enduring activity.
Certified by
All India Co-ordinating Committee - Royal College of Obstetrics & Gynaecologist (AICC-RCOG)
Certification Benefit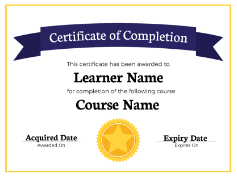 Official and Verified:
Receive an instructor-signed certificate with the institution's logo to verify your achievement and increase your job prospects.

Easily Shareable:
Add the certificate to your CV or resume, or post it directly on LinkedIn

Boost your Profile:
Stand out from the rest by adding valuable certificates and make your profile look much more lucrative.
Proven Motivator:
Give yourself an additional incentive to complete the course
Course FAQs
The course is organized into 3 modules and includes additional on resources specific to each one. Registration for the course is always open and participants may begin the course at any time.
As soon as you enroll in a course, you'll have access to all videos, quizzes, and assignments (if applicable). Peer review assignments become available once your session has officially begun.
Yes, some background knowledge pertaining the subject will be necessary. This course is directed towards MBBS/MD doctors who have done their post-graduation in Gynaecology.
Yes, relevant work experience is beneficial as the courses on docmode.org help practicing and aspiring healthcare professionals.