Information
---
Price

Free

Language

English

---
Meet the Instructor
Dr. Bhumesh K. Katakam
Pediatric Dermatologist
MBBS, DCH, MD-DVL, From Gandhi Medical College, Hyderabad.
SCIENTIFIC CO CHAIRMAN-IAP TCB AND PEDDERMACON 2016,
Scientific chairman – IAP TCB,
Scientific chairman-IADVL Telangana,
Scientific co chairman – DERMAZONE SOUTH 2018,
Scientific chairman – IADVL TELANGANA 2018-2019,
Scientific chairman -PEDDERM-CON2019,
Honored with prestigious "IADVL SENIOR DERMATOLOGIST AWARD" in MID DERMACON 2018
Honored with "PEDIATRIC DERMATOLOGIST OF THE YEAR" IN 2018,
Received National award for a paper on Neonatal Dermatoses
Won FIRST prize in Dr.PS Murthy Quiz for practitioners in IAP TCB PEDICON 2018
Has been TOT Teacher for National Aids Control Organization(NACO), India for the past 9 years.
Faculty in DVL for the past 9 years and in Government service for the past 19 years.
14 Publications in peer reviewed journals.
Presented more than 55 papers and 150 guest lecturers in national and international conferences.
One chapter (NEONATAL DERMATOSES) in IADVL SIG Pediatric dermatology,
Two chapters (DD of Urticaria and DD of Premature canitis) in IAP.
Certification Benefit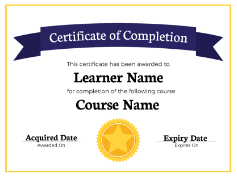 Official and Verified:
Receive an instructor-signed certificate with the institution's logo to verify your achievement and increase your job prospects.

Easily Shareable:
Add the certificate to your CV or resume, or post it directly on LinkedIn

Support our Mission:
EdX, a non-profit, relies on verified certificates to help fund free education for everyone globally.
Proven Motivator:
Give yourself an additional incentive to complete the course
Live Lectures FAQs
The DocMode platform runs on the following browsers:
Firefox, Chrome, Safari and Internet Explorer
We generally encourage the use of, and fully support only, the latest version.
You only require a working computer/laptop/mobile and a stable internet connection and good audio (internal or external speakers, earphones or headset).
No. It is absolutely free of cost.
Yes, you can access the live lecture at a later date from your dashboard itself if you are enrolled for the same. Even if you haven't enrolled for it, all live lectures hosted on DocMode.org are available for viewing under the Lectures section of the DocMode homepage.
There is a Question box just below the video player where you can submit any related questions at the time of the live lectures. Answering to the questions solely depends on the doctor/lecturer giving the lecture.
As per our policies with the doctor/lecturer the content used in the live lectures can be viewed only on DocMode.org
Information regarding any upcoming live lectures are put up on the site a week prior and can be found on our site's homepage under Upcoming Lectures.
As of now DocMode does not offer any credit points for watching the live lectures/on-demand recording.
If you have a suggestion for a live lecture, you can email us at partner@docmode.org with your contact details along with your or speaker's updated bio and details regarding the lecture with topics you wish to be covered.